Welcome to Shopogolic.net!
We are glad to welcome you to our site! Use this short instruction to understand the scheme of the system and start shopping. It will take no more than 5 minutes. If you do not register please do it now!
Sign up
Click the REGISTRATION button, fill in the required information. Then check your email after 1 minute, you receive a confirmation link. If the message does not appear for 5 minutes, check the Spam folder. Follow the link from the email and activate your account. In the end, you need to fill out your PROFILE and VERIFY ACCOUNT.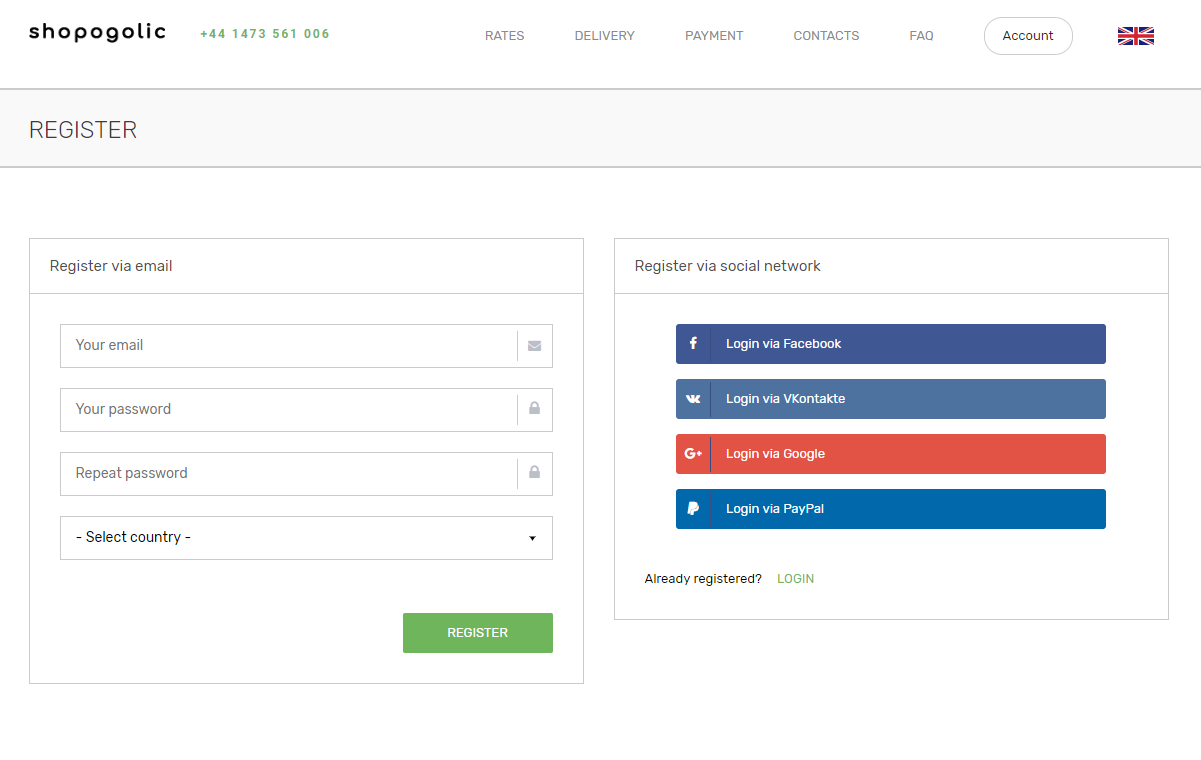 Fill all your details correctly:
Your name and surname
Your phone number with the code
Your full address can be filled on next step - will be used by default for shipping and billing

After filling in all the data, press SAVE CHANGES. A confirmation email will come to your e-mail, and now you can use our virtual address for purchases.
In the PROFILE SETTINGS, you can change your avatar, and on the left under your name, you will see the customer number assigned to you in our system (ID USXXXXXX) and the status according to the loyalty program.
Registration completed, your profile created! Let's see how to buy orders and use your address.
Shopping assistance service
Press create order in your account.
Fill all the data for your every item:
Order name for your convenience
Link to your item on the internet, example https://shopogolic.net/en/loyalty-program
Description (Item name)
SKU (It is item number from the shop if there is no any please type 1)
Colour and size (your size and colour)
Price for 1 item 
Quantity​​
Local delivery price (Usually it can be found in the online shop at the delivery page)
Comment (if you have any special requirements or code please use it here)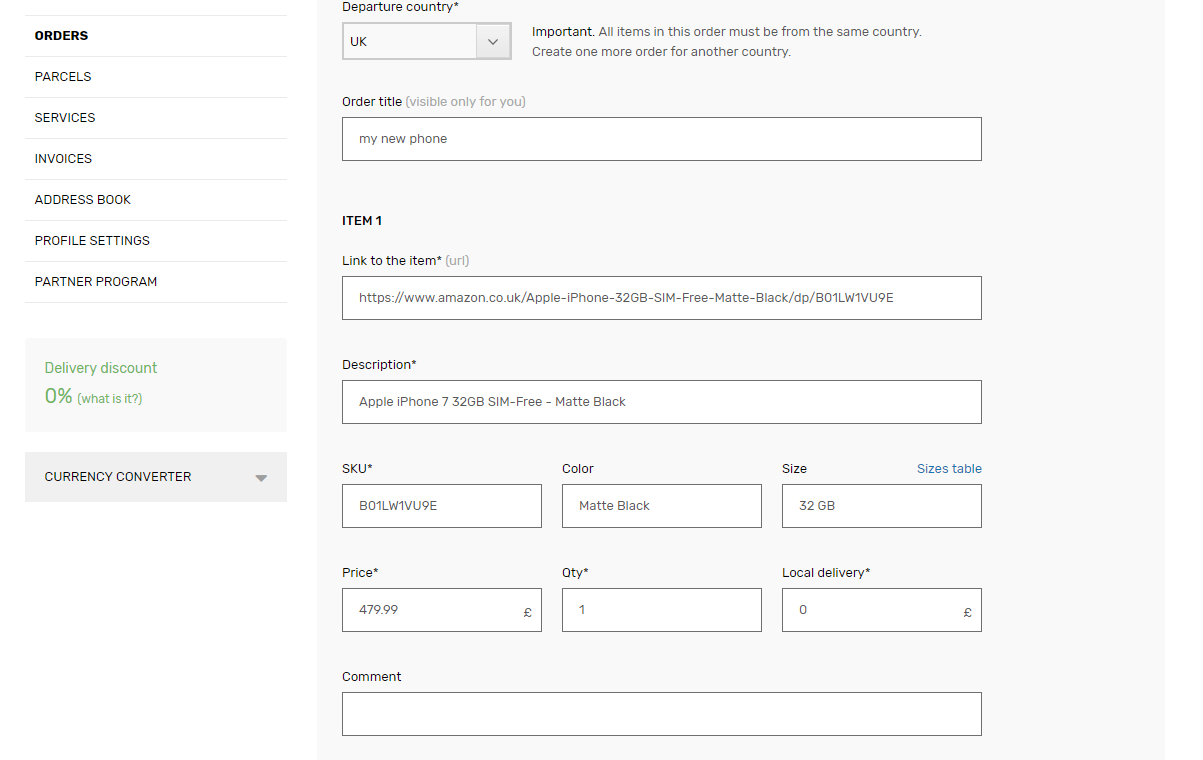 You can edit your order if it is not paid. To quickly jump to an order, click the CART icon on the top right. All orders are assigned the OR (order) prefix so that when forming a parcel for shipment you can quickly navigate.
After specifying all the data on the product, you can immediately pay it, and our team will buy it in the shortest possible time. If necessary, the operator will call you to clarify the details or write a message.
When it comes to us, you will receive the email notification and if you press order number in your account you can see all the information include 1 free picture, weight, tracking etc.
Order statuses:
Cancelled
- Item is out of stock
- No full details about items
- No any shipping options
Paid
It will be purchased soon, usually in 2 hours
Pending
Some details are missing we will contact you
Completed 
After a few days it will be with us and you get email
Received
The order came and processed, you can create shipping
Sent
After a few days your order will be shipped
How to use Virtual address service
After verification steps, you get available addresses - for purchases in England, Germany or USA
You can buy in almost any shops that accept your billing address and PayPal or cards. Please read the rules for using the virtual address in your account, so that you do not have problems with orders later. All orders for the virtual address are automatically assigned in the system prefix MF.
Your order will be delivered to our warehouse usually within 2 - 5 days. After your order is delivered, you will receive a notification by e-mail indicating the weight of your order, free picture, the name of the store and the instructions. After that, you can create shipment in your account.
You can also combine orders purchased through us and purchased independently to your virtual address for savings - it's free. All orders have their own menu, which you can use to select additional services or fill out the declaration, including MF-orders. At this stage, you can also order additional services, in the form of a photo or check the item etc.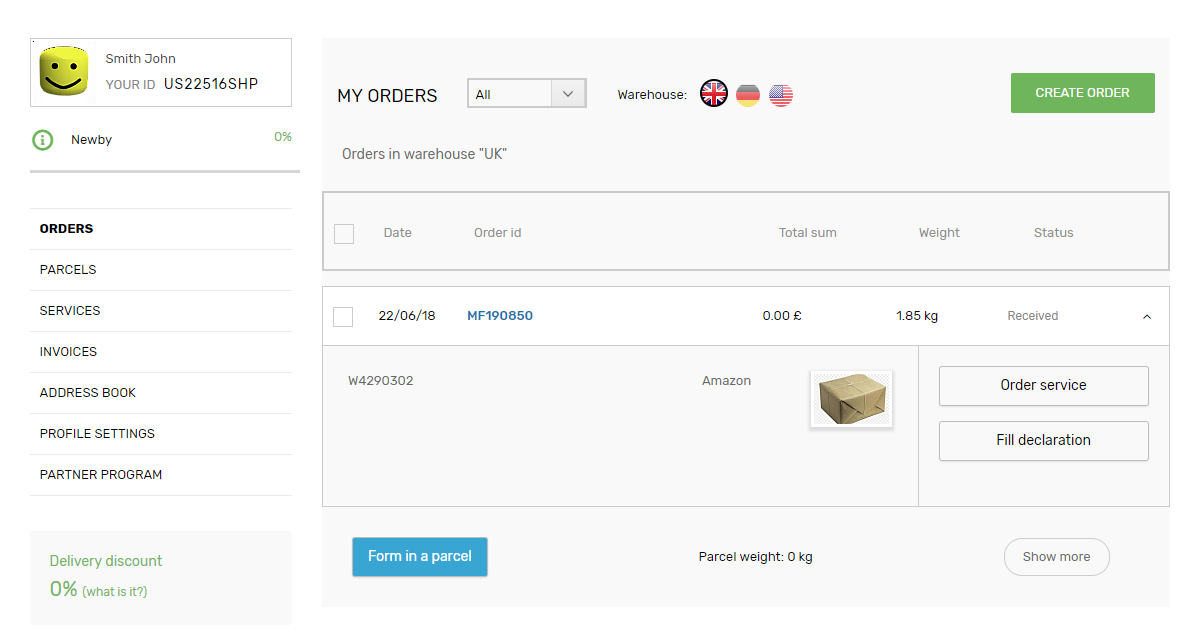 Additional services
All services are stored in the SERVICES section so that they can always return to them
✓ Additional packing of the parcel is recommended for all fragile goods, glass, ceramics, appliances and gadgets.
✓ Removing hangers and all excess packaging - helps to reduce the weight and volume of the parcel, sometimes significantly.
✓ Photo of goods and goods check helps to get more information and problems with an item before shipping
How to form a parcel for shipment
Go to the ORDERS section, check the orders that you want to send, and press form in parcel button. Now you need to choose your delivery options and fill up the customs declaration. Also, you can write any wishes for packing the package in the column "Comments". We will pack your parcel in 48 hours and you get the invoice for the parcel delivery and our services. The exact weight of the parcel may decrease or grow depending on the volume, weight or additional packaging. We do all our best to pack safe your parcel to avoid any damages but still recommend to use the insurance for more safety.
Package tracking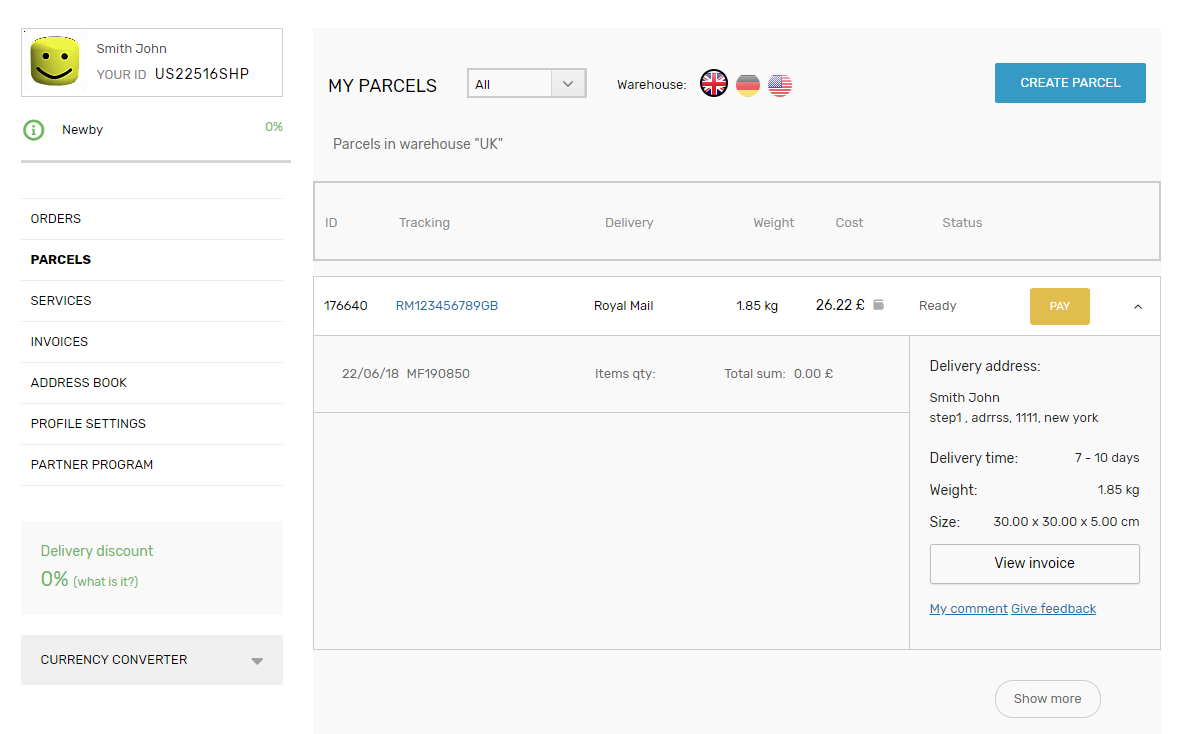 You will receive your parcel tracking number on your email and can track it in your account.
Some types of delivery start tracking not immediately, but in a few days, so if the parcel is not being tracked, do not rush to write to technical support, it is possible that tracking will begin in an hour.
We are very happy when our customers receive parcels. Please send us your parcels photo and leave feedback with your experience. 
Happy shopping!